Where should I place the Photon™ series in my home or business so it is most effective?
Selecting a location where your Photon™ series unit(s) will live is an important step in addressing the problems Puraclenz addresses.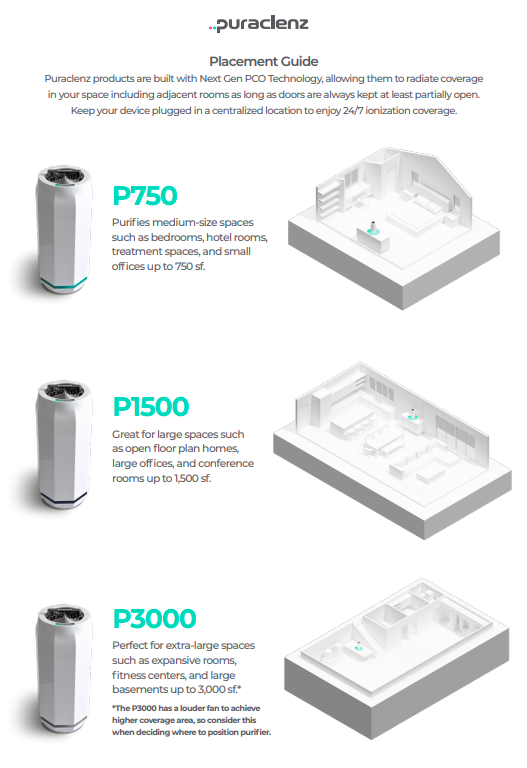 Before picking a location, keep in mind how the ions generated by our Photon™ series diffuse passively throughout indoor spaces.
A good analogy is a small space heater. The purifying ions diffuse in a space in a way similar to heat. The farther you get from the Puraclenz unit, the lower the ion density.

Anything that blocks the diffusion of ions will also block the effect of those ions. Examples include closed doors, walls, etc.

If you are using multiple Photon™ series units, the diffusion of their ions can overlap. That is good! Plan on placing multiple units so their ions, and effects, will overlap.
Puraclenz recommends that you place your Photon™ series unit on a counter, a tabletop, or a wall (mounting hardware included).
Select the most central location in your room that is practical. Locations near open doors, windows, or ductwork intake can significantly decrease the effectiveness of your purifier.
Can I place my Photon™ series on the floor?
We do not recommend that you place units on the floor. Carpet static will attract some of the ions that should be in the air. This can decrease the efficiency and effectiveness of your purifier.
Where can I mount the Photon™ series?
Puraclenz recommends placing wall-mounted units between 6'-9' off the floor. In spaces with ceilings over 12 feet, place your unit no higher than 9 feet off the floor.